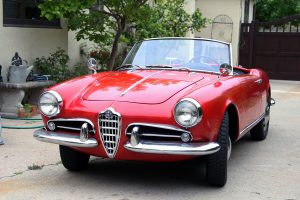 Sporting Cars of Santa Barbara…
has been serving Santa Barbara County and the world since 1992, it is owned and operated by Steve Hughes. Steve has been buying and selling interesting and eclectic autos both new and used since the early 1980's . While many things have changed over the last 30 years, one thing has remained constant treat people right and they will come back. He has sold and shipped cars all over the world and many sight unseen, the number of repeat customers is a great testament to his dilligence in making things right both before and after the sale…..
Meet Steve Hughes
Steve is the owner of Sporting Cars of Santa Barbara, his love for interesting classic cars started in his native England and blossomed when he moved to California in the 1980's. After a stint selling new cars including Rolls, Bentley, Porsche and Jaguar he started working for the world famous Chequered Flag in Marina Del Rey this gave him a great foundation in the art of buying and selling classic cars. Since moving from jolly old he has always been amazed by the quality and variety of interesting vehicles here and the amazing condition of older California cars started his lifelong appreciation of the quintessential California car. Over the last 30 years he has sold a multitude of cars but each one has one thing in common they have all been interesting in there own way.